Understanding the Prayer Book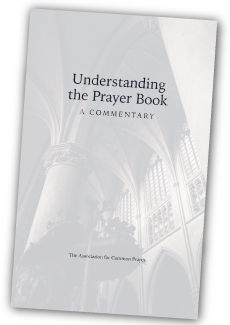 This book was produced in 1989 by the Association for Common Prayer, to encourage a renewed appreciation of the spiritual richness of the Prayer Book. It contains reflections on the services in the BCP, written by various members of the Association.
---
About the Association for Common Prayer:
The Association for Common Prayer was formed in the Maritimes shortly after the introduction of the Book of Alternative Services in 1985. It was established in response to the lengthy and often bitter debates between those who wished to uphold the Book of Common Prayer and those who promoted the Book of Alternative Services. A small group of clerics and laity were convinced that this continuing argumentation was unhelpful to the health of the Body of Christ and established the Association for Common Prayer simply as a call to prayer and Christian living in the Anglican tradition. The Association was intended to be a way of encouraging one another in "Common Prayer": the saying of the daily BCP offices of Morning and Evening Prayer, the partaking of the Holy Communion regularly for spiritual nourishment and the building up of the Body of Christ, and the framing of a Rule of Life. The Association was determined to promote nothing but prayer. Nonetheless, in the polarized church politics of the time some clerics in the Diocese of Nova Scotia complained to the diocesan bishop about the fact that folk were being urged to pray in the Prayer Book tradition. The bishop expressed his disapproval of this, and in obedience to him the Association was disbanded.
Understanding the Prayer Book