Year 4: All My Days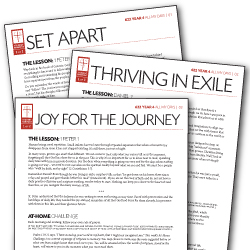 If you have not yet taken the time to review the introductory notes on how to get the most out of the study series, we'd like to invite you to do that now! View the introductory notes here.
If you're just starting out with "622", then Year 1 is the best place to begin.
Year four of "622" completes the 4-year cycle with an exploration of devotional and liturgical patterns for Christian living that can help tether us to our true identity. We'll look at baptism, matrimony, and burial; seasons of sickness, penance and thanksgiving, as well as those times when we simply feel "at sea." No matter our circumstances, believers are called to be rooted in the spiritual reality beyond what we see and feel, walking by faith and not by sight. Get ready to go deeper with another action-packed year!
Following is a list of units and lesson titles.
---
622 Resources
The Lessons
Let us know how it's going!
We'd love to hear from you on what is working well and what can be improved in future projects. And in the meantime, we'll be praying for you!
Almighty God, who hast committed to thy holy Church the care and nurture of thy children: Enlighten with thy wisdom those who teach and those who learn, that, rejoicing in the knowledge of thy truth, they may worship thee and serve thee all the days of their life; through Jesus Christ our Lord. Amen. BCP p. 47
---
Developed for the Prayer Book Society of Canada by Kerry Dickson, and edited by Diana Verseghy.
The sources of the quotes used in the lessons can be found here.